With all the giving and getting, spending and consuming, it can be very easy to get a little overwhelmed and frazzled at this time of year. Our solution is to get outdoors into this stunning place we call home and give the best gift you can give to friends, family, those in need; your time.
There is nothing like the West of Ireland air to blow out the cobwebs and refresh the mind after all the Christmas indulgence.
If you REALLY want to experience Christmas in the West, dive in! Brave the freezing waters for the traditional Christmas morning swim. Find the perfect gift among the stalls at the Christmas Markets and show off your Gaeilge with a breezy 'Nollaig Shona Duit'.
Best Christmas & New Year's Swims
There is NO better way to clear the cobwebs than a teeth-chattering dip in the Atlantic. So get your hip flasks ready and check out our pick of the best Christmas and New Year's Day swims across the West.
Galway:
1. COPE Galway Christmas Day Swim.

This is the 29th annual Christmas Day Swim organised by COPE, where swimmers gather in Salthill and brave the icy waters together to raise money for the most vulnerable people in our society.
Last year over 450 people took time out of there Christmas Day to take the plunge, raising €28,900 for COPE's services in Galway. Registration for the Christmas day Swim is €10 for one person or €30 for the family.
Anyone who wants to take the time out of the holiday season to help those who aren't so fortunate can register online here.
The Christmas Day Swim will take place at Blackrock Pier in Salthill from 10am to 1pm. copegalway.ie/get-involved/events/christmas-day-swim/
2. Inis Mór, Co Galway
The Aran island has a variety of swimming spots, the most famous of which is Pól na bPéist – home to the Red Bull divers in the summer. The island's population dwindles in winter, there are still plenty of intrepid souls who meet for a post-Mass gathering on December 25th.
3. Sligo: The Christmas Day Splash in Rosses Point
This annual charity swim raises much-needed funds for the MS North West Therapy Centre. The swim takes place from Rosses Point Yacht Club at 12 noon.
25 Dec, Rosses Point, Co Sligo facebook.com/Christmas-Splash-Christmas-Day-Rosses-point-Sligo-121508774625721/
There are a plethora of other charity swims in Sligo including Streedagh, Mullaghmore and Raughley.
4. Roscommon: Lough Arrow Annual Swim
Christmas Day 2018 sees the 18th Lough Arrow Annual Swim in aid of North West Hospice. The swim will start at 1pm at Flynn's Pier, Lough Arrow and will see participants braving the picturesque Lough Arrow for a Winter dip. There is lots on offer for swimmers and spectators alike with a truly festive atmosphere of family fun on the lakeside including a DJ spinning Christmas tunes, hot whiskeys & mulled wine to warm the cockles as well as soft drinks for children. Events will kick off from 12:30pm Christmas Day with the swimmers going into Lough Arrow at 1pm. The annual swim has raised over €184,000 for the Hospice since it began in 2001. northwesthospice.ie/events/lough-arrow-christmas-day-swim/
5. Donegal
Culdaff, Co Donegal: The New Year's Day swim at is Inishowen's largest, hundreds of people from across Inishowen, Donegal and Derry take the annual plunge at Culdaff beach. This year's swim kicks off 2.30pm on New Year's Day.
Bundoran, Co Donegal: The Christmas Day swim takes place on the main beach at 12.15pm
6. Clare
Kilkee is a swimmer's utopia. Its Pollock Holes are natural deep pools that replenish each time the tide recedes. Newfy (or Newfoundout as its officially called), has two diving boards which Richard Harris used to frequent. The annual Christmas Day swim is on Kilkee Beach at 12.30pm in aid of Kilkee Sub Aqua Club's search-and-recovery activities.
25 Dec, Kilkee, Co Clare loophead.ie/events/christmas-day-swim-in-aid-of-cancer-research/
Solstice Celebrations
7. Winter Solstice Labyrinth Walk, Loop Head, Co Clare

Welcome the return of the light on the eve of the shortest day of the year. Create an intention in your heart and walk the Labyrinth with family and friends this Winter Solstice.
At the centre, is the beautifully crafted statue of Danu, mother Goddess of the Tuatha de Danaan. Danu represents the protector of the Earth. The Triskell on her pregnant belly represents Earth, Sea and Sky.
You are invited to chant the healing mantra with us in the Yoga centre afterward. Donations are welcomed to help the Hope Foundation who support the vulnerable on the Streets of Calcutta. Please rug up well, wear comfortable shoes and bring a torch or lantern. Bring a little jar to hold a tea light.
loophead.ie/events/winter-solstice-labyrinth-walk/
8. Celebrate the solstice in Sligo with a Pagan Adventure
Celebrate Pagan New Year on the 21st of December with marine archaeologist Auriel from Seatrails.
To mark this important day, you will first explore the interesting Caves of Keash where remains of extinct fauna were discovered at the turn of the 20th Century and a place that is steeped in Irish mythology. You can enjoy fabulous views from the caves out onto the rural landscape.
Then you will head to the incredible Stone Age passage graves of Carrowkeel, (a most inspiring place to be at solstice) to see the sunset over a majestic landscape and the moon rise lighting up the ancient tombs and the spirits of those who were buried there thousands of years ago. These people were farmers and fully in sync with the pagan calendar year. This was an important time for them as they looked forward to the lengthening of the daylight and the start of Spring, a rebirth of crops and animals and not to forget, a brand New Year!
Finish off with complimentary mince pies and hot chocolate out in nature 'al fresco'. The cost is €25 for adults and €10 for children. Meeting time is 12 noon. Booking is essential. Dec 21.
Auriel is also running a Christmas 'Heritage On Horseback' With Seatrails on 29 December. Full details and booking at Seatrails.ie
Christmas Adventure Festivals and Events:
9. Blow the cobwebs away with a Christmas Paddle on Lough Gill
Here's a day out with a difference for friends and families – kayaking on gorgeous Lough Gill with Sligo Kayak Tours. The three-hour tours are for everyone; no experience is necessary, and all equipment is supplied. Knowledgeable tour guides bring the lake, its legends and characters to life. A thoughtful stop off at a secluded island for a seasonal mulled wine and mince pies puts the icing on the cake so to speak. It's a special time of year to be out with family and friends and Lough Gill is a beautiful place to spend a few hours.
Every day from St. Stephen's Day to New Year's Day (26-31 December) Sligo Kayak Tours run three-hour paddles starting at 10.30am. The cost is €40 per adult and €30 for the under 16s. Advance booking is essential 086 1999015 or sligokayaktours@gmail.com. facebook.com/SligoKayakTours/
10. Sturrall Headland Rock Climb
Winter climbing in the County of Donegal in the North West of Ireland is quite simply outstanding, alas it has a very fleeting window of opportunity. Due to its coastal position and relatively low lying mountains good winter conditions in Donegal are a rare commodity indeed.  Usually, temperatures have to be below 0 for 5 days consecutively, and down to -5 at night, and an ill-timed dump of snow can spoil it all. To take advantage of these fleeting conditions you have to drop everything, and brave the inevitably appalling road conditions to get there, for rest assured, it won't last!
The winter light along Ireland's most remote coastline is incredible. Around New Years Day adventurer Iain Miller visits the summit of the Sturrall in Donegal. The Sturrall Headland is one of the most outstanding sea cliff features in Ireland it is a true monster of a headland sitting isolated and far from the real world. It sits equidistant between Glencolmcille Village to the South and the An Port road end to the North. The ridge is approx 800m long and 180m at its highest point.
As this outing is very weather dependent, to confirm availability it is best to email Iain Miller directly. For more visit Iain's website at uniqueascent.ie
11. Galway Skates ( 18th November 2018 – 16th January 2019)
Galway Skates brings Christmas Ice Skating on a real ice skating rink to Galway City for Christmas 2018. Visitors can expect to see Galway's Leisureland transformed into one of Ireland's premier Christmas attractions with one massive 500m2 ice rink.
12. Fanore Burren Christmas 2018 – 10k/5k Event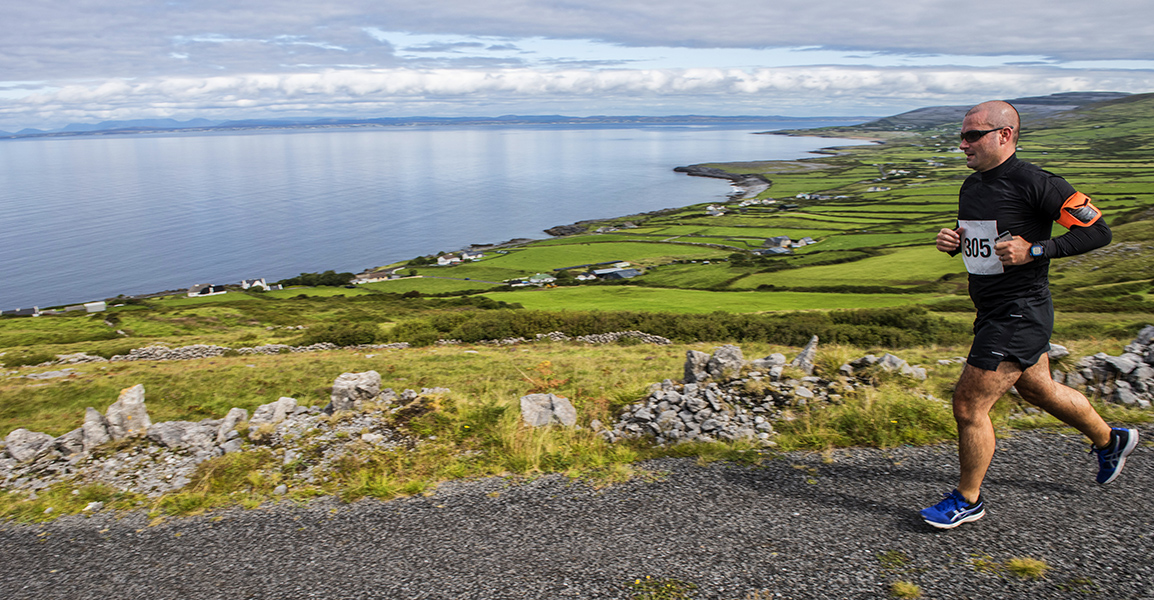 Get ready for 2017 by burning off the Christmas excess at the 6th annual Fanore Burren Christmas 10k/5k starting at 12 from O'Donohues Pub on the R477 "Wild Atlantic Way". Registration open from 10.30
The Fanore event has built up a reputation for its high-quality finishers medal and this year we have pushed the boat out with a beautiful medal marking the centenary of the Easter Rising. You won't find a better one.
The 10k course is challenging with a 400-foot climb in the first half – most, of course, is tarmac with 1km on the green road. 5k is a flat course on tarmac suitable for all.
Numbers can be picked up from 10.30 at start. Registration on the day from 10.30 to 11.30 by cash or cheque. Saturday 29 December 2018  active.com/fanore-clare
13. Achill New Years Eve:
At the stroke of midnight on New Year's Eve there is a tradition in many villages on Achill Island in Co Mayo for their pipe bands to welcome in the New Year. A short parade followed by a rally of three or more Achill pipe bands provides a rousing and unforgettable New Year's celebration for all the family. For the 'morning after the night before' how about a bracing dip in the Atlantic at the traditional New Year's Day swim at Dugort. achilltourism.com/newyear
https://www.lookwest.ie/wp-content/uploads/cope-galway-swim.jpg
508
1030
LookWest.ie
https://www.lookwest.ie/wp-content/themes/lookwest/images/lw-logo-973.png
LookWest.ie
2018-12-17 14:34:32
2018-12-18 17:27:02
Top 13 Adventure Things to do in the West for Christmas & New Year's